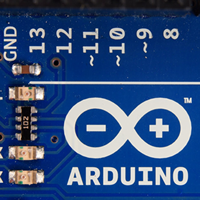 Thanks to generous support from the Electronic Textual Cultures Lab, I am very happy to announce Humanities Physical Computing at the UVic: a group of students, faculty members, and artists exploring the pedagogical and research potential of microcontrollers, sensors, and actuators in the humanities. The group includes Alyssa Arbuckle (UVic English), Ted Hiebert (UWB IAS), Doug Jarvis (Victoria Artist), Joel Legassie (UVic History), Shaun Macpherson (UVic English), Alyssa McLeod (UVic English), Jana Millar Usiskin (UVic English), Daniel Powell (UVic English), Emily Smith (UVic English), Michael Stevens (UVic English), and Tara Thomson (UVic English). I will be acting as the lead organizer.
During our meetings and workshops in 2012, we will explore three things in particular: (1) the basics of Arduino and Processing (including workshops on programming), (2) teaching with Arduino (including a workshop on microcontrollers, kinaesthetic learning, and critical practice), and (3) the "reanimation" of junk technologies and media (including workshops inspired by the Scrapyard Challenge Workshops). Ultimately, then, our emphasis will be on praxis, the materiality of digital objects, the development of intelligent research environments, and frameworks for reducing technological waste through creative repurposing and education.
Follow us at #uvichpc.